Blizzard's design was born out of a vision of sailing pleasure without compromises. She offers a stylish life out at sea, featuring the latest exterior and interior design. Innovative, spacious, bright and sophisticated, this new yacht offers cruising the turquoise waters of the Whitsundays with infinite confidence.
Experience sailing with unknown ease, but with the speed of a modern performance yacht. Enjoy uninterrupted views as time flies by in a dream of blue water and green islands. And when you hear your inner call for action, unroll the movie star inside you. Go for a peaceful snorkel or ride the sea scooter to find Nemo.
Our tour takes you right amongst the nicest Whitsunday Islands. Each tour visits the beautiful Whitehaven Beach on Whitsunday Island. A short walk takes you up the Hill Inlet Lookout, from where you have a breathtaking view over the curved sands of Whitehaven Beach. Afterwards a sunbake or beachwalk session on the super fine sand is due. The tour stops in various of the dreamy Whitsunday Bays for snorkelling. Underwater you will find a whole world of itself, full of colourful corals and fish.
Our SeaScooter will turn the most convinced landlubber into a marine biologist. Snorkelling provides a great nature experience from a whole new perspective. Just floating in there: you, the corals and the fish. Amongst the islands we regularly visit are Whitsunday, Hook, Dumbbell, Langford, Hayman and Border Island. Every tour is a little different, we travel to the best locations for the individual conditions.
BLIZZARD SPECS
Innovative, spacious and clever designed, this real gem of a boat is an invitation to set out to sea in style. Blizzard skilfully combines unequalled comfort at anchor, as well as luxury and functional design.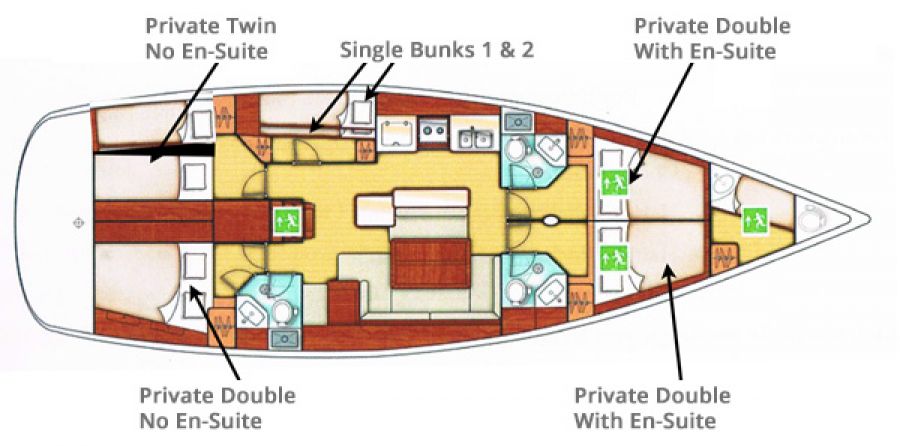 To live aboard, it is incredibly pleasant and relaxing. Each of its guests has their "corner" of tranquillity.
Designer - B. Racoupeau / Nauta Design
Builder - Beneteau La Rochelle
Model - Oceanis
Overall Length - 14.98m / 50ft.
Hull Beam - 4.82m
Draft - 2m
Superstructure - Fibreglass
Sail Area - 117.8 sq. m.
Spinnaker - Yes
Engine Power - 75 KW
Water - 980L
Passengers - 10 Max.
Crew - 2
Equipment - Masks, Snorkels, Snorkel Suits, SeaScooter, Multiperson Inflatable SUP
AN EXAMPLE ITINERARY
1. Sail to Hook Passage (overnight anchorage).
2. Dumbbell Island (snorkel).
3. Tongue Bay (Hill Inlet Lookout & Whitehaven Beach).
4. Stonehaven Bay Hook Island (overnight anchorage).
5. Blue Pearl Bay Hayman Island (snorkel).
6. Sail back to Airlie Beach.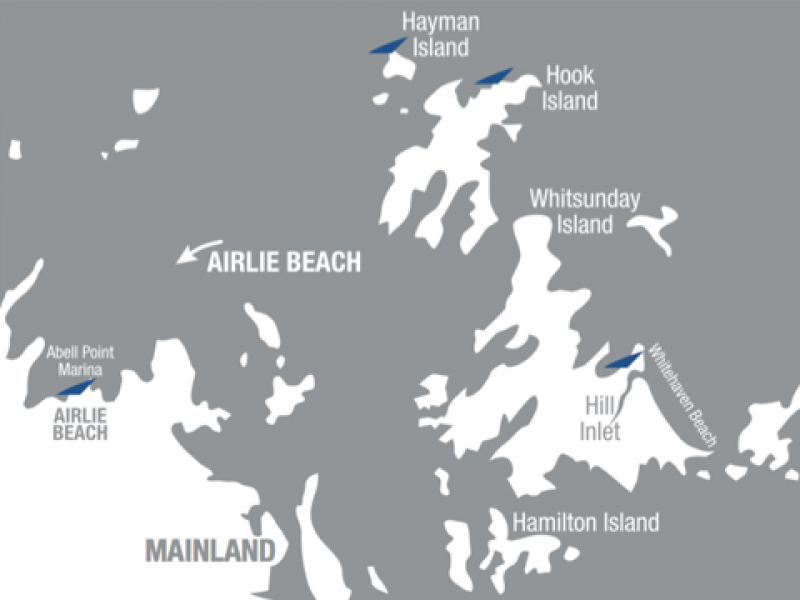 BOARDING
A friendly ISail Crew member will pick you up at 4pm from the meeting area around the Marina Kiosk of the Northern Coral Sea Marina (formerly Abell Point Marina), Shingly Drive, Airlie Beach (roundabout end). Pack light. You can store your luggage at check in. You'll get taken to the boat, shown your accommodation and given a short introduction of the crew and the boat … and then you are heading out to sea.
SUNSET SAILING
Blizzard sets off to the Whitsunday Islands and after a brief sailing introduction you and your fellow sailors will enjoy a sunset sail. Feel free to grab a drink. A snack (entree) will be served after dropping sails.
EVENING ON THE BOAT
The evenings are for relaxing, socialising or star gazing. A generous buffet dinner will also be served. This is a great time to exchange travel tales or ask the crew about marine life.
GOOD MORNING
Start the day with the smell of coffee. Breakfast is ready for you at 7am. After breakfast the tour heads to the 1st snorkelling location.
SNORKELLING
ISail snorkels in bays protected from wind and waves (e.g. Dumbbell Island). Listen to the snorkel brief, then put on your snorkel suit and grab a mask. Or how about trying out the SeaScooter, effortless gliding through the water chasing fish. Our crew will drive you directly to the corals and fish with the inflatable dinghy (rubber ducky). Your snorkel guide will stay with you the whole time to watch over you and assist you. Enjoy the great underwater world with peace of mind.
WHITEHAVEN BEACH & HILL INLET
From Tongue Bay on Whitsunday Island we will explore Whitehaven Beach. Our crew drives you over to Whitsunday Island to the start of the Lookout walk. After a short bush walk you will enjoy the most magnificent views from Hill Inlet Lookout. On the other side of Tongue Point awaits Whitehaven Beach. Enjoy some time here relaxing, sun baking and swimming.
THE LAST DAY
After breakfast, enjoy another snorkel site on the morning of your last day in the Whitsunday Islands (e.g. Hayman Island's Blue Pearl Bay). A big morning tea follows. Get ready for another exciting sail adventure back to Airlie Beach.
*Itinerary: The itinerary is only intended as a guide as what to expect .Each tour visits Whitehaven Beach and Hill Inlet Lookout. In order to make the best of your tour, snorkel and overnight locations will vary due to wind, weather and tidal conditions. The skipper selects the best locations for the individual day. We reserve the right to change itinerary and vessel without notice.